The Vietnamese air force has reported two large oil slicks close to where a Malaysia Airlines Boeing 777 went missing earlier in the day, the first sign that the aircraft carrying 239 people had crashed.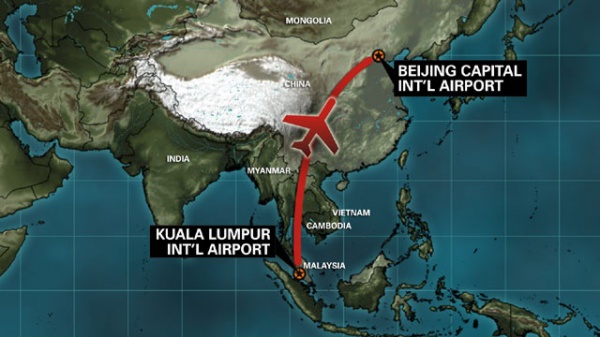 The air force planes were part of a multinational search operation launched after Flight MH370 fell off radar screens less than an hour after it took off from Kuala Lumpur for Beijing early Saturday morning.
The oil slicks were spotted late Saturday off the southern tip of Vietnam and were each between 10 kilometers and 15 kilometers long, the Vietnamese government said in a statement. There was no confirmation that the slicks were related to the missing plane, but the statement said they were consistent with the kinds that would be produced by the two fuel tanks of a crashed jetliner.
Reference: http://www.usatoday.com/story/news/world/2014/03/08/malaysia-airlines-beijing-flight-missing/6199161/