Edaran Tan Chong Motor Sdn Bhd (ETCM) is pleased to introduce the first 4 Nissan LEAF ambassadors –Daniel Yap, Jason Goh, Yoong Huey Yee and Rizman Harith Merican for its 'Journey To Zero Emission' program, the first program in Malaysia which involves a Nissan electric vehicle (EV).
The ambassadors will be the first few to use the EV in their daily lives for up to 6 weeks. They will share their daily experience with friends and the public via different mediums such as video clips, write-ups as well as to provide valuable feedback to ETCM on the performance of LEAF in local conditions.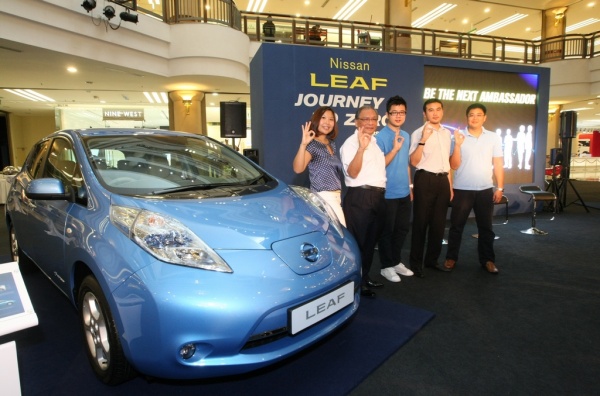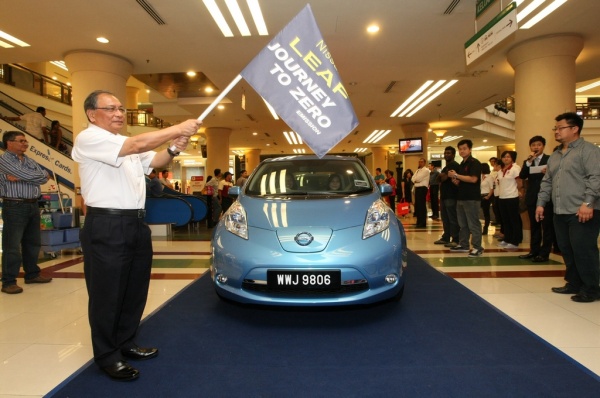 ETCM's executive director, Dato' Dr. Ang Bon Beng commented, "We have received tremendous response for the 'Journey To Zero Emission' program. Selecting the first 4 ambassadors proved to be a much more difficult task than we initially thought; simply because of the many high quality submissions that we have received!"
The LEAF ambassador application is still open and the previous applicants still stand a chance to be selected. ETCM would like to have as many Malaysians experience the LEAF in real life situations to create a better understanding of the EVs.
"Do not be discouraged if your application was not selected in the first phase.  This program is ongoing and do submit your application fast as you may be the next ambassador!" added Dato' Dr. Ang.
ETCM is proud to introduce the LEAF in Malaysia in its 'Journey To Zero Emission' to support the government's green direction, and also Nissan's commitment to be the global leader in zero emission mobility.
ETCM invites all to see, feel and explore the world's first mass-produced 100% EV, Nissan LEAF at the following venues:-
July 11 to 16 – 1 Utama Shopping Center, Petaling Jaya, Selangor
July 26 to 29 – Queensbay Mall, Penang
August 3 to 5 – Mahkota Parade, Malacca
August 10 to 12 – Sunway Pyramid, Petaling Jaya, Selangor
September 12 to 16 – 1 Utama Shopping Center, Petaling Jaya, Selangor
October 5 to 7 – Alor Setar Mall, Alor Setar, Kedah
November 7 to 11 – 1 Utama Shopping Center, Petaling Jaya, Selangor
November 23 to 25 – East Coast Mall, Kuantan, Pahang
December 26 to January 1 – 1 Utama Shopping Center, Petaling Jaya, Selangor