During my trip to Brisbane this year, I found this George's Paragon Seafood Restaurant in Gold Coast and Brisbane city @ Eagle Street Pier. Since Gold Coast is full of appetizing foods, I never had the chance to taste it. But thankfully before I leave to Brisbane's Airport, I had my half price lunch @ George's Paragon Seafood Restaurant at Eagle Street Pier, Brisbane.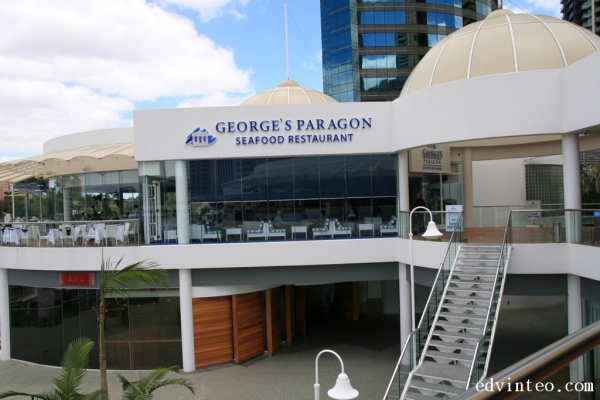 A little overview to begin, the restaurant feature with a vibrant Greek theme, seat up to 200 guests and offers a wide variety of dishes including the freshest of seafood, traditional Mediterranean, plus steak, chicken and pasta. For my lunch, I ordered a dozen of oysters and a serve of marinara pasta with a total bill around $30. You got to believe me that the oysters are so fresh and the marinara is so delicious!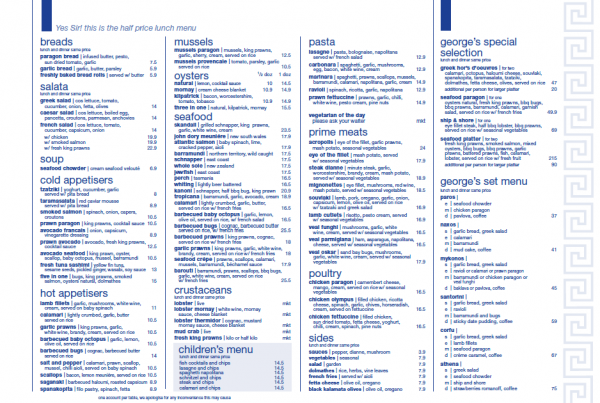 I am not sure when the promo – "yes sir! Lunch half price" menu will be concluded but it is available and serving every day still. If you happen to be in Brisban or Gold Coast (or planning to go), I highly recommend you to plan a lunch at George's Paragon Seafood Restaurant. I am sure you won't regret but you will miss it, for sure.
Contact Details
Level 1, Eagle Street Pier
1 Eagle Street, Brisbane 4000
T: +61 7 3211 8111
F: +61 7 3211 8880
Trading Hours
| | |
| --- | --- |
| Monday | 11:00am – 3:00pm |
| | 5:30pm – 10:00pm |
| Tuesday | 11:00am – 3:00pm |
| | 5:30pm – 10:00pm |
| Wednesday | 11:00am – 3:00am |
| | 5:30pm – 10:00pm |
| Thursday | 11:00am – 3:00pm |
| | 5:30pm – 10:00pm |
| Friday | 11:00am – 3:00pm |
| | 5:30pm – 10:00pm |
| Saturday | 11:00am – 3:00pm |
| | 5:30pm – 10:00pm |
| Sunday | 11:00am – 3:00pm |
| | 5:30pm – 10:00pm |
Photo Gallery: George's Paragon Seafood Restaurant at Eagle Street Pier